OVER THE BACK FENCE- DECEMBER-2017
"Christmas gift suggestions: to your enemy, forgiveness. To an opponent, tolerance. To a friend, your heart. To a customer, service. To all, charity. To every child, a good example. To yourself, respect." ~ Oren Arnold

I think I can hear my garden purring – or is it snoring? It has been all tucked away for its long winter sleep. A fluffy duvet of snow covers it in the most beautiful way, the soil is happy with its warm cozy blanket of mushroom compost, the new bulbs are happily putting down new roots after their dry and boring fall existence in a paper bag, and the worms are frolicking in their 16 garbage pails of their new fragrant food source. All is well in the dormant winter garden. Yes, I am pretty sure I hear purring!
As for us, it is time now to set up the winter/Christmas front porch arrangement once again. In the woods, along the trails, and in the ditches, there is abundant material just waiting for you to create a winter masterpiece. You can start with clumps of evergreen varieties at your local grocery store, then augment that with material that you find. Our native red and green dogwood grow wild everywhere, a welcome addition to the evergreens. The teasel weed is especially lovely when you spray paint it gold or silver. This works very well also with large pine cones. Look at your amazing hydrangea blooms in the garden, and stick them in here and there. To add some Christmas sparkle, simply drop in some sparkly balls and a big red ribbon. The dollar store has all sorts of red and gold sticks and flowers to finish it off. Have fun and use your creativity! Here are a few suggestions: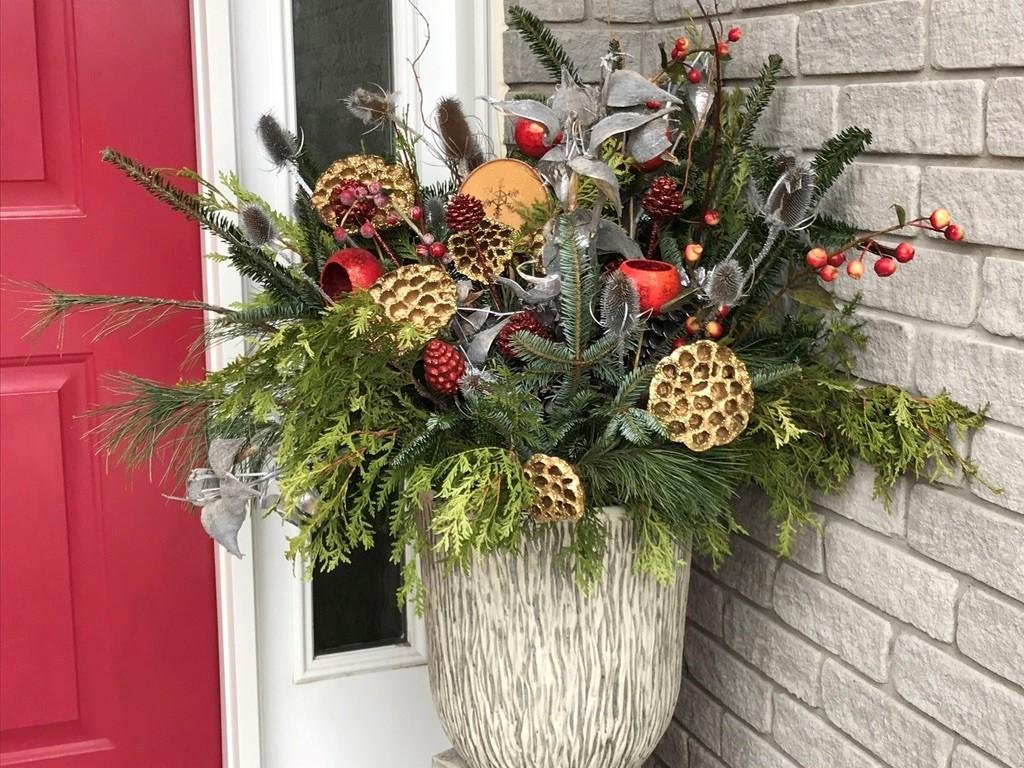 Yours in Christmas gardening, Lynn Near.