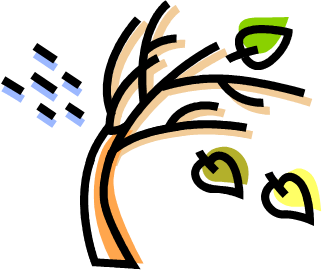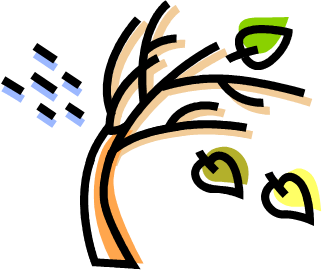 OVER THE BACK FENCE-NOVEMBER-2017
Summer ends, and Autumn comes, and he who would have it otherwise would have high tide always and a full moon every night; and thus he would never know the rhythms that are at the heart of life. ~Hal Borland
And here we are at November already! Dahlias have been dug out, tulips are planted, leaves are raked, compost has been applied, and our gardens are ready for winter's long, quiet sleep. The first juncos have arrived, blue Jays are numerous in the skies as they begin to migrate south. By the way, did you know that a blue jay eats up to 100 peanuts in the shell a day? Chickadees are busy storing sunflower seeds in the bark of trees, and increasing the size of their brains in order to remember where they have hidden all their treasures! The cold November wind is howling outside – it must be time to move inside and look at our indoor situation!
If you haven't already, it is time to take your indoor tropicals outside to the back deck and give them a good hosing off and soaking. This will eliminate dust and dirt that as accumulated over the summer. Disturb the soil, fertilize, and add new soil at this time. Have a good look at the plants for signs of insect or water damage. Remove any less than perfect leaves, and perhaps trim back to a more livable size. If there is insect life evident (e.g.- small webs), now is the time to spray with a mild insecticidal mixture. Add 1 part Dawn dish soap to 9 parts of water, and a few tablespoons of cooking oil. To apply the homemade insecticidal soap, you will need to spray the infested plant -- undersides and tops of leaves, stems, buds and blooms -- thoroughly with the solution. For easier application of the homemade pesticide, transfer the solution to a clean spray bottle or garden sprayer after mixing the ingredients together. Repeat the treatment at 7- to 14-day intervals until you have controlled the soft-bodied, sap-sucking little creatures. Leave the solution 10 minutes, and then rinse off thoroughly with clear water.
When bringing in plants from outside, look for treefrogs- we unknowingly brought one in a few years ago, hiding in a big planter; we knew something was amiss when he started to croak one night!! Perhaps you, too, will find a surprise amongst your plants.
NOW you can hibernate, along with the chipmunks, skunks, and raccoons- or perhaps you may join the robins and grosbeaks as they wander southward! If you stay, remember to join the Horticultural Society for a great selection of speakers and demonstrations all winter long! They meet at Dublin St. United church, the fourth Tuesday of every month (except December). Everyone is welcome. See you there.
P.S. While cleaning my dieffenbachia, I discovered an amazing little flower in the centre of the leaves! In all the many years of growing this amazing (and poisonous!) plant, I have NEVER seen a bloom! It is, mind you, not very spectacular, so naturally nurseries sell it for its lovely foliage.
Yours in gardening, Lynn Near